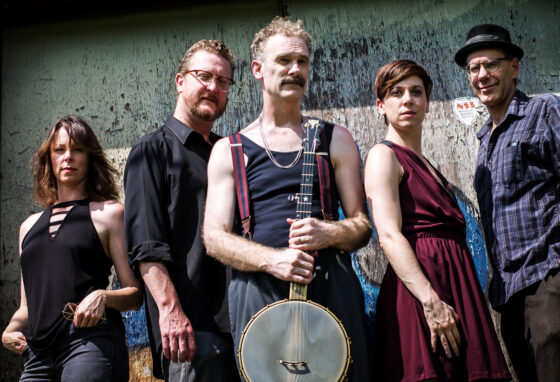 Curtis Eller's American Circus + Shiznitz
Date:

08/06/2019

Time:

20:00

Location:

The New Adelphi Club

Venue:

Curtis Eller's American Circus + Shiznitz
Curtis Eller is a banjo player, songwriter and rock & roll singer. After beginning his show business career at the age of seven as a juggler and acrobat, the Detroit native turned to the banjo and lit out for New York City where he rose to obscurity as "New York's angriest yodeling banjo player". Siting Buster Keaton, Abraham Lincoln and Elvis Presley as his primary musical influences, Eller became a staple of the beer halls, burlesque houses and underground theaters of the eastern seaboard. Fame proved elusive.
Having spent years toiling in the musical sweatshops of the industrial north, Eller uprooted his family and resettled in some faded, tobacco town in the North Carolina Piedmont to begin the arduous task of assembling a new version of his band, The American Circus. The latest version of the ensemble is a brutish and inelegant rock & roll outfit specializing in banjo music for funerals, gospel tunes for atheists and novelty dance fads for amputees. A lavish, Hollywood, dance sequence unfolding on the floor of a Chicago meatpacking plant in 1894. 
Eller's numerous compositions describe a dreamlike vision of American history where all points in time have collapsed into one. Past recordings have seen a ghastly parade of historical luminaries, from Abraham Lincoln and Buster Keaton to Amelia Earhart and Joe Louis, sharing the spotlight with a host of Civil War generals and corrupt 19th century politicians.
The group's latest phonographic recording, is a compact collection of glittery show tunes, sentimental tear-jerkers and rock & roll rave-ups whose lyrics are populated with two-bit prize fighters, Hollywood has-beens, lapsed gospel singers and forgotten pop stars. Eller relentlessly tours the US and Europe with an expanding and contracting cast of misfits.
with support from Shiznitz
Doors 8.00pm
———-     ———-     ———-     ———-     ———-
eTickets are on sale through The Adelphi Online Box Office – below.
*The Adelphi does not charge a booking fee.
We do not process tickets over the phone.
The Adelphi Manager: Mat 07756 992723 
Add the number of tickets you require before clicking Buy Now >>>