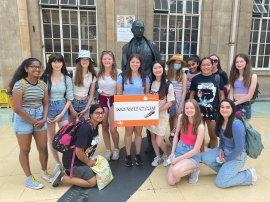 Yard Sale & Wellbeing Event – NCS Hymers
Date:

28/07/2021

Time:

2021/07/23 10:01

Location:

89 De Grey Street HU5 2RU

Venue:

Hymers NCS - Hull Homeless Community Project Fundraiser – The New Adelphi Club
YARD SALE &  WELLBEING WALK  
Come join the wonderful Hymers NCS team to help them to raise money for the Hull Homeless Community Project. 
Wednesday 28th July at the Hull Adelphi 
11 am—2pm  
Come buy our delicious home baked treats,  toys, games, gifts and greeting cards.  
Additionally, come and  join us on our wellbeing  walk taking place at  11am and another at  12:30 pm, starting at  the Adelphi.
Hymers NCS Team