The Smile (Screening) – Live Broadcast – THE SMILE – THOM YORKE, JONNY GREENWOOD & TOM SKINNER
Date:

30/01/2022

Time:

2022/01/30 10:00

Location:

The New Adelphi Club

Venue:

The Smile (Screening) – Live Broadcast - THE SMILE THOM YORKE, JONNY GREENWOOD & TOM SKINNER – 89 De Grey Street, Hull, HU5 2RU
The Smile (Screening) – Live Broadcast
THE SMILE – THOM YORKE, JONNY GREENWOOD & TOM SKINNER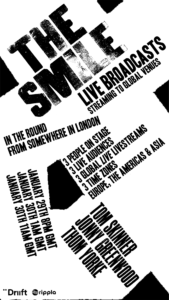 THE SMILE
THOM YORKE, JONNY GREENWOOD & TOM SKINNER
THREE INTIMATE PERFORMANCES TO BE LIVESTREAMED FROM
LONDON JANUARY 29 & 30
THE SMILE HAVE CONFIRMED DETAILS OF THREE SPECIAL LIVE LAUNCH SHOWS
FROM MAGAZINE IN LONDON ON 29TH & 30TH JANUARY.
The Smile, the new group comprising Radiohead's Thom Yorke and Jonny
Greenwood and Sons Of Kemet's Tom Skinner, have also revealed their debut single
'You Will Never Work In Television Again'.
The Smile will play three consecutive live shows within a twenty-four hour period at
Magazine London on the 29 and 30 January. Performing to a seated audience in the
round, the three shows will also be broadcast in real time via livestream.
The performances bring together a live show, a livestream and a cinematic
film, captured by award-winning director, Paul Dugdale (The Rolling Stones, Adele,
Paul McCartney) and produced by Driift and distributed to venues by Rippla.
The shows will be streamed live to venues around the world at the following
times:
BROADCAST #3: London – 11am Sun. / New York – 6am Sun. / Los Angeles – 3am
Sun. / Sydney – 10pm Sun. / Tokyo – 8pm Sun.
Rippla will also be rebroadcasting "as live" to venues at various times over these 2
dates. Check with your local venue!
Livestream tickets are available on general sale from 7th January at 9am GMT.
Ticket links: www.rippla.tv/the-smile-venue-screenings
About Driift:
Driift is an award-winning producer and promoter of innovative, high quality
livestream events for the world's greatest artists and performers including Laura
Marling, Nick Cave, Kylie Minogue, The War On Drugs and Dita Von Teese. Working
with globally-renowned directors, Driift has collaborated extensively with a wide
range of artist teams and partners including CAA, BMG, WMG, UMG, Glastonbury
Festival, DREAMSTAGE, DICE, Universe/Ticketmaster and Pulse Films.
Headquartered in the UK and with offices in North America and Australia, Driift has
sold more than 600,000 tickets to audiences in more than 190 countries.
www.driift.live
About Rippla:
Rippla broadcasts music shows and events to local venues around the world so
that fans can watch together. Rippla have produced music experiences for some of
the world's top bands including, Mumford and Sons, Keane and The National.
Rippla is a Midemlab 2021 Winner introducing its social platform that allows fan
communities to connect around their passion for specific artists.www.rippla.tv