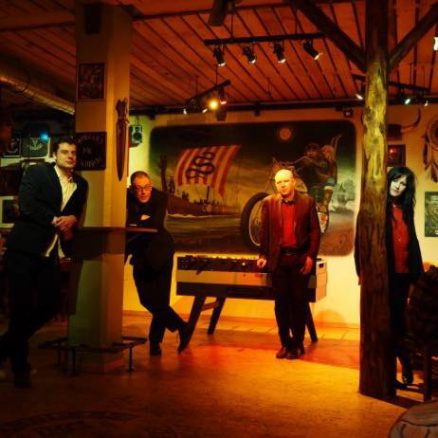 The Nightingales + Ted Chippington
Date:

21/10/2017

Time:

20:00

Location:

The New Adelphi Club

Venue:

The Nightingales + Ted Chippington
The Adelphi presents The Nightingales + Ted Chippington and support from The Holy Orders.
Doors 8 pm
£9 otd
If John Peel sessions are the rock and pop equivalent of England caps, then Nightingales mainstay Robert Lloyd is in Bobby Moore territory with only Mark E Smith, David Gedge and Ivor Cutler notching up more Peel show appearances. Between 1978 and 1990 he recorded 15 Peel sessions, including eight with The Nightingales plus others with The Prefects and in other combinations before going to ground for ten years.
The Nightingales enjoyed cult status in the early '80's as darlings of the credible music scene and were championed by John Peel. The group recorded a bunch of critically acclaimed singles (Almost always 'Single Of The Week' in the music press) and three albums, but in the late Eighties the Nightingales stopped working but re-grouped in 2004.
After fucking about with various part timers, starry eyed wastrels, precious sorts and mercenaries the group arrived at it's current line up, which features Lloyd, Andreas Schmid from Faust on bass, ex Violet Violet drummer Fliss Kitson and on guitar James Smith, who Lloyd had spotted playing with Damo Suzuki.
Since restarting the group have been more productive than ever – releasing five 7″ vinyl singles, a 10″ EP and six studio albums, touring England, mainland Europe and USA numerous times, recording many radio sessions along the way.
They have been invited to play various festivals in Europe and the States, including Glastonbury and SXSW. Their "Let's Think About Living" 45 was 'Single Of The Week' on BBC 6 Music and they have continued to receive regular rave reviews for their records and live shows.
"A loud, awkward, exciting live act. They were droll, surly, ace, a proper rock & roll group." – DAVID BENNUN/MAIL ON SUNDAY, UK
"The Nightingales play a uniquely indigenous, all-encompassing brand of working class rock 'n' roll. Beneath the Beefheart lurch and the Stooges stomp you can hear football chants and northern soul, blues and bluebeat, folk song and country and western; even music hall and Frank Sinatra. Filter this through mainman Robert Lloyd's own experiences, observations, temperament and talent and you've got music that is as original as it is uncompromising." – BEN GRAHAM/STOOL PIGEON, UK
"The Nightingales play with rock in a manner that is sometimes difficult, belligerent and downright confusing, but never fails to be utterly compelling." – SILENT RADIO, UK
"The 'Gales are consistently one of the best live experiences in the country. Forty minutes segued together seamlessly, a cocktail of 60's garage and psychedelia shaken up with krautrock. It's heady, fresh and invigorating." – BRIGHTON NOISE, UK
The Nightingales are touring once again with Ted Chippington, a British stand-up comedian and entertainer known for his diffident on-stage persona and West Midlands monotone. He also frequently performs his own versions of well-known songs in a similarly listless style. His relationship with The Nightingales goes back to the mid 80s, when they worked together on Ted's single "Rockin' With Rita (Head to Toe)"
His act is one in which the conventions of his chosen craft are routinely flouted. Chippington's ruthless disregard for the conventions of stand-up made him a perennial outcast from the 1980s comedy scene. His act has left audiences bemused or hostile, with heckling a frequent occurrence during his performances.
His deadpan style has won him devoted followers, including Richard Herring and Stewart Lee.
Ted retired from the stage in the 1990s, reputedly because "he was becoming too popular", but began performing again in 2007
Also on the bill are Hull's own The Holy Orders. Their combination of strong songs, melodies, massive amounts of energy and huge dynamics has gained them a reputation as a ferocious live act.
Tom Robinson has championed the band saying: "Just when you've had it with Strokes/Interpol/Editors soundalikes along come The Holy Orders and restore your faith in indie guitar music"
He invited them onto The Tom Robinson Show on BBC 6music to play a session and, as well as playing them on his listener requested Now Playing show, they were his choice of new band when he selected his pick of songs on BBC 6music's The First Time.