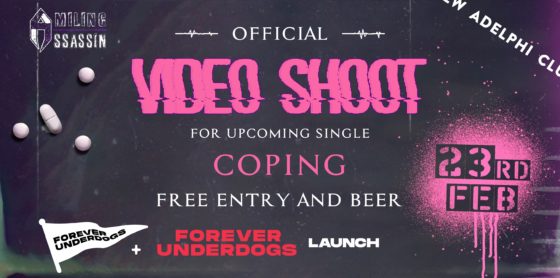 Smiling Assassin Official Video Shoot & Forever Underdogs Launch
Date:

23/02/2020

Time:

2020/02/23 15:00

Location:

Hull

Venue:

Smiling Assassin Official Video Shoot & Forever Underdogs Launch – The New Adelphi Club
Smiling Assassin Official Video Shoot & Forever Underdogs Launch
We're shooting our first official music video for our upcoming single 'Coping' from our debut album – dropping Spring 2020!
WE NEED YOUR SUPPORT!
FREE ENTRY AND FREE BEER!
The shoot will take place at The New Adelphi Club on Sunday the 23rd of February at 3:00pm and last a couple of hours.
We will be playing live and are giving everyone who attends a FREE BEER! There will also be a chance to win some free merch!
The bar will be open as well, don't panic!
After the shoot The Forever Underdogs team will take over and officially announce their plans for 2020 – this will involve music, drinks and a bit of a party into the evening – You don't wanna miss this!
Video Shoot Details:
Starts at 3pm till about 6pm
Consists of crowd shots and reactions
(We will be playing live)
We expect pits and headbanging – no exceptions haha
AOO media are directing and filming
Other than that, just come down and have a sick time and listen to a sneak peak of our album we've been working very hard on!
Thank you.
https://www.facebook.com/events/2514592212141612/