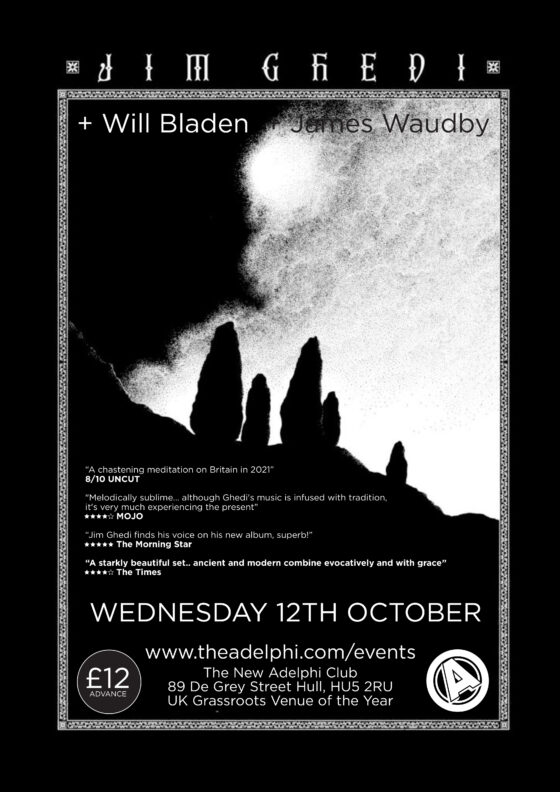 Jim Ghedi + Will Bladen + James Waudby
Date:

12/10/2022

Time:

2022/10/12 20:00

Location:

89 De Grey Street Hull HU52RU

Venue:

Jim Ghedi + Will Bladen + James Waudby – The New Adelphi Club
Unfortunately tonight's show has been cancelled because Jim Ghedi  has lost his voice.
We apologise for any inconvenience.
We will be looking to rearrange this show in the foreseeable future.
* Ticket holders will be contacted shortly and can request an immediate refund or hold the ticket for the next show.
Jim Ghedi
Jim Ghedi hails from the South Yorkshire hills and although clearly well versed in the history of British folk music, he stands out as a potential torch bearer for a new generation of respectful yet experimental performers. Whilst Ghedi's previous idiosyncratic take on folk has often been instrumental, his new album 'In The Furrows Of Common Place' is a deeper plunge inside himself to offer up more of his voice to accompany his profoundly unique and moving compositions. Departing away from previous work, here he draws from social-political observations, contemporary songwriting, historical & traditional material and a rich varied number of other inspirations and sources, such as the poetry of John Clare, the writing of Robert Macfarlane and the works of South Yorkshire author Barry Hines.
Jim has received BBC 2 play from Mark Radcliffe, BBC 6 Music airplay from Gideon Coe, Cerys Matthews and Elizabeth Alker and BBC 3 play from Verity Sharp, he has recently had a book of poems & songs 'Spring Of Yarrow' published through Ration Books.
"A chastening meditation on Britain in 2021" ~ 8/10 UNCUT
"Melodically sublime… although Ghedi's music is infused with tradition, it's very much experiencing the present" ~ ★★★★☆MOJO
"Jim Ghedi finds his voice on his new album, superb!" ~ ★★★★★ The Morning Star
"A starkly beautiful set.. ancient and modern combine evocatively and with grace" ~ ★★★★☆ The Times
http://www.jimghedi.com
+ Will Bladen
+ James Waudby