MORCHEEBA – IVW
Date:

29/01/2020

Time:

2019/11/04 21:59

Location:

Hull

Venue:

MORCHEEBA - IVW – The New Adelphi Club - 89 De Grey Street
MORCHEEBA + Support
We're thrilled to announce that MORCHEEBA will be performing at The New Adelphi Club on Wednesday 29th January 2020 as part of our Independent Venue Week celebrations.
MORCHEEBA is one of the great UK bands at the forefront of the trip-hop genre rising to prominence in the mid-nineties, touring the world and selling over 10 million albums across two decades including the hit album "Big Calm" and mainstream chart success with singles "The Sea", "World Looking In" and "Rome Wasn't Built in a Day". Skye has one of the most recognisable voices on the planet and hearing her smooth and effortless tone teamed with Ross' psychedelic guitar is an unforgettable, spellbinding experience.
The band has just produced its ninth album and is currently touring the world. "20 years in, it's never taken us longer to tour the world," says singer Skye Edwards. "We're still finding fans in places we've never played before, who've waited all this time to see us, or fans who've only recently discovered our music through streaming. It's amazing."
Morcheeba's global success is no surprise. Being one of the first Western acts to tour China, their melting pot sound has been border-hopping ever since the London-based band emerged from the mid-'90s trip hop scene that made them household names at home. Several line-up changes later and the departure of DJ/producer Paul Godfrey in 2014 – Morcheeba have never been busier or more in tune with the times.
Blaze Away, their positivity-packed ninth album, marks both a fresh start in its organic approach and a return to the joyous genre-mashing of their early days. There was no template for its ten, extraordinary, future-facing songs, no self-imposed limits on style, no themes to be adhered to or rules in place to break.
"Touring so much and seeing what works for us on stage, all around the world, gave us the confidence to experiment," says multi-instrumentalist Ross Godfrey, now also the duo's producer.
Tickets
Tickets will go on sale to Adelphi Members first through our website box office, priced at £20 with no booking fee on Sunday 1st December at 12 noon.
Members will need to login in order to purchase tickets.
Members can buy up to a maximum 2 tickets*. Tickets are not for resale. Any remaining tickets will go on sale to the general public on Friday 6th December at 6.00pm.
* Members who buy two tickets will be emailed requesting them to declare the name of their additional ticket holder for security. – I.D. will be required on entry.
Independent Venue Week is a 7-day celebration of music venues around the country and a nod to the people that own, run and work in them, week in, week out.
These venues give artists their first experience of playing live in front of an audience. They give fans somewhere to get up close to artists that one day, may well be playing stadiums and festival main stages. They also provide those wanting a career in music, off the stage, the chance to learn their craft up close in a small venue.
Independent Venue Week is unique in that it is a nationwide initiative with a completely local feel.
By championing these venues, we are able to highlight why they are so much more than just places for live music – they are cultural hubs for learning, creativity, arts and culture more widely in the local community for people from all walks of life.
Supported using public funding by Arts Council England, Wales and Creative Scotland in the UK as well as the wider music industry and brands globally, Independent Venue Week brings together these venues along with breaking and established artists, promoters, labels, media and tastemakers to create a nationwide series of gigs.
These venues, all local businesses, are the backbone of the live music scene and Independent Venue Week recognises all that they have done to create some of the most memorable nights of the past so they can continue to do the same in the future. www.independentvenueweek.com
Don't miss this chance to see a great band up close and personal at The Adelphi.
And there's more. So keep posted, we have more special announcements soon.
All the latest information is available at www.theadelphi.com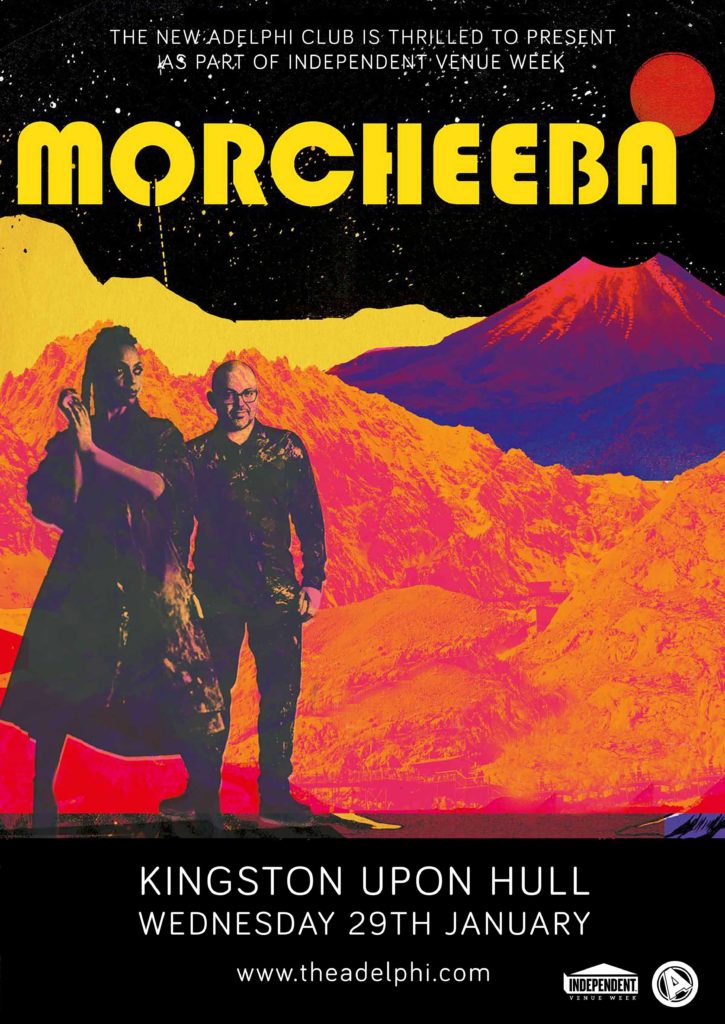 Tickets will be available on 01/12/2019