Fellow Pynins +ElWhaeko + Imogen Hart
Date:

14/07/2022

Time:

2022/07/14 20:00

Location:

89 De Grey Street Hull HU52RU

Venue:

Fellow Pynins + ElWhaeko Imogen Hart + More – The New Adelphi Club
Fellow Pynins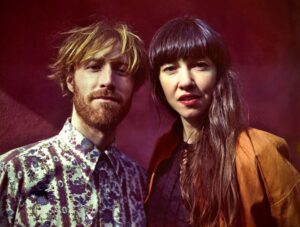 Fellow Pynins is an award winning contemporary folk duo with a keen and bucolic sense of vocal harmony and song craft. The live performance is a whimsically emotional escapade through the chasms of our, yes, feelings..  Dashed with spontaneous and clever banter, mirth and woe, you will probably cry and quite possibly laugh, a lot.  Wielding claw-hammer banjo, Irish bouzouki, mandolin, and acoustic guitar the duo sings predominantly original music as well as reworked traditional ballads gathered from their travels.
Fellow Pynins embody the music they make. They travel the world with their two children collecting old songs and connecting with the generations who still sing them. Reworking the old ballads, they create a sound that can easily sit alongside the music that comes through the pen of their own hand. This is the band that you never knew you needed in your life. So soak in the stories and as Lisa Dunn from BBC says, let the music "transport you into their haunting and beguiling world of love tales and spine-tingling harmonies… They will have you traveling far and wide to hear them again."
"Folk Music with a hefty touch of whimsy" – Bob Boilen (NPR)
"Fascinating Stuff" – Frank Hennessy, BBC Radio Wales
"Fellow Pynins will transport you into their haunting and beguiling world of love tales and spine-tingling harmonies… They'll have you traveling far and wide to hear them again." – Lisa Dunn (BBC)
"Spellbinding" – Country Music People
"Strong vocal harmonies" – Smithsonian Folkways
"Fellow Pynins have definitely staked their claim as one of today's most intriguing and authentic traditional folk acts." – Music Mecca
+
Elwhaeko
Unique, soulful and northerly vocals drench stories with alluring melodies and bring to life the underbelly of his native Yorkshire. 'Elwhaeko' is the solo project of singer / songwriter, Lee Atkinson (formerly Making Dens / JSMG). A modern take on folk, indie acoustic and electronic music, the hooks are classic and the words offbeat, woven into intricate and original melodies. Expect something similar in tone to that of Nick Cave, Scott Walker and Badly Drawn Boy. Elwhaeko is in no short supply of material and is joined on stage by David T, Laura Dowse, Jack Husch and Roy Lyon, providing a versatile and unique sound. Elwhaeko is vibrant and moving quickly, having already graced main stage festival slots, headlined at the Sesh, performed in session on BBC Introducing Humberside, gained regular radio play across the region and Elwhaeko was also featured in BBC Introducing Humberside's playlist of the year 2016 and can be streamed on Spoitify, Bandcamp and iTunes. 2017 will see an album, videos and more ambition from this hardworking outfit.
"The best description of Elwhaeko's sound is dark, indie, acoustic, pop. The band played mesmerising melodies that were so beautiful they could leave you stood, fixated in a trance. Lee Atkinson's soulful vocals help create their effortless and captivating sound. The band are a group who will be easy for almost all ears to listen to with their free-spirited tone." – Browse Magazine
"Unique, original and talented" – Alan Raw (BBC Introducing)
"Epic" – Stewart Baxter (Music Producer / Youth Worker / Drummer in LIFE)
"Music you could die to – beautiful" – Ian Rook (Photographer)
"Elwhaeko for me emphasise even more the gentle pathos of those beautiful songs" – Grot580 (Instagram)
+
Imogen Hart
Imogen Hart is a 22 year old singer and songwriter based in Yorkshire. Her debut single "Save me" held Hull Kingston Radio's number one spot for two consecutive months back in 2015. With four BBC Introducing Humberside sessions under her belt; Imogen Hart has been described as "one of Yorkshire's most impressive up and coming singer songwriters." Inspired by artists such as Maggie Rodgers, The Lumineers, Gabrielle Aplin and Taylor Swift; this young artist is best known for her emotional and captivating acoustic performances, that are bound to leave you mesmerised
£7.50 Advance/OTD
Doors 8pm.