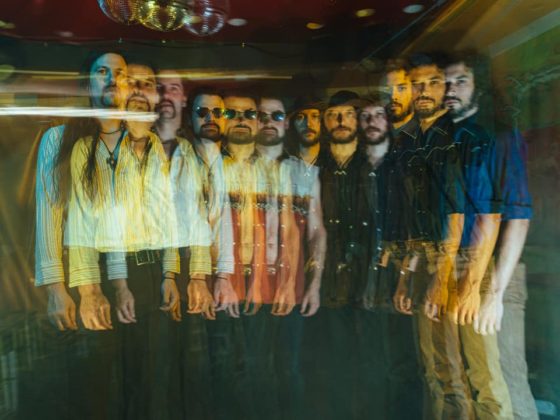 Ecstatic Vision + Support
Date:

27/10/2019

Time:

2019/10/27 20:00

Location:

Hull

Venue:

Ecstatic Vision + Support – The New Adelphi Club
ECSTATIC VISION are coming back to Europe this fall with a new album via Heavy Psych Sound Records.
The band blends Tripped-out Synth, Semi-Catatonic Desert driving tunes, Afro-tribal Funkadelic Vibes, Troglodyte-Detroit Rock grooves, Acid Freak-Outs, Ethereal Psychedelic Hymns, and Mind-Altering Kraut Rock into Ecstatic Vision's outsider take on modern music.
It's like if Tangerine Dream jammed with Lemmy and the Asheton Brothers and decided to play some World Music and Free Jazz in 1971.
Advance tickets £8 /£7 Members
The Philadelphia trio Ecstatic Vision have toured with metal acts like YOB and Enslaved, and they're signed to the metal-associated label Relapse Records, and they look like a metal band. But Ecstatic Vision's forthcoming five-song debut, Sonic Praise, only occasionally intersects with metal, and when it does, it resembles bands like Hawkwind or Monster Magnet or Earthless.
These are tripped-out, sun-baked, cloud-high psychedelic jams drawing from free jazz, Krautrock, and Afrobeat, resulting in music that lives up to the lofty promises made in both the band's name and their album's title. To the extent this stuff might be conflated, confused, or associated with metal.
More aptly, though, it recalls the old Spacemen 3 album title (and mission statement), Taking Drugs To Make Music To Take Drugs To. (To be fair, I have no idea if any of the guys in Ecstatic Vision have ever so much as considered a single toke; their music, though, suggests they have vast experience with all number of hallucinogens.)
https://www.facebook.com/ecstaticvision/
http://ecstaticvision.bandcamp.com/