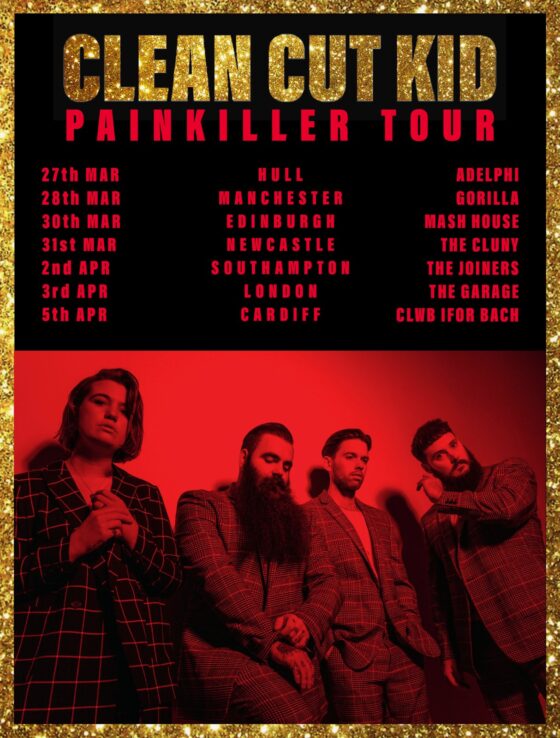 Clean Cut Kid + Support
Date:

27/03/2019

Time:

20:00

Location:

The New Adelphi Club

Venue:

Clean Cut Kid + Support
Clean Cut Kid.
£12 + BF from
https://www.seetickets.com/event/clean-cut-kid/adelphi/1293519

Having toured relentlessly for three years, alongside recording their debut album with numerous producers and in numerous studios, Clean Cut Kid decided to take a 10 month break from touring to record new music. On Wednesday 12th September, the band will mark their return with new single 'Emily,' taken from their upcoming 'Painkiller' EP out 22nd October.
The first thing the band did was head back to their native Liverpool, where they rented a pod in an old shipping factory in the Baltic Triangle area of the city, and filled it with vintage recording equipment. Once that was fully set up, they locked themselves away for months on end, getting everything up to the standard they wanted.
Mike Halls (lead singer/guitarist) was adamant that these new songs would be more personal to Clean Cut Kid, both in the themes they cover, but also to the band as a whole. Explaining this, Mike says: "I want to write about things in my life, what we're feeling, whether they be sad or joyous. The ultimate thing is to take the deepest emotions and work it in to a message that isn't miserable."
Written, recorded and engineered entirely by the band, 'Emily' finds Clean Cut Kid deviating from their indie-pop sound of first album Felt – released last year – in to a more lo-fi, American East Coast sound, complete with 70s-inspired, fuzz guitar lines, harmonic backing vocals, a stand-alone verse from Evelyn Halls (keys) and thudding drums, with echoes of Fleetwood Mac, The Rolling Stones and Phoebe Bridgers.