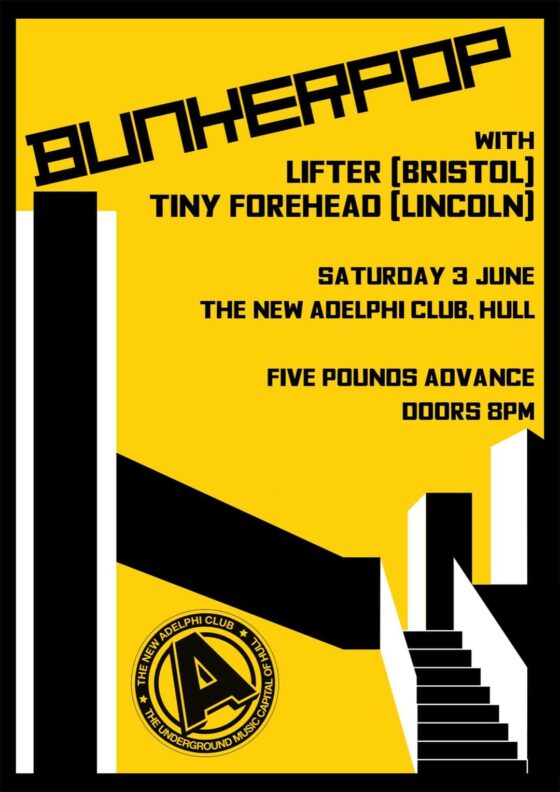 Bunkerpop + Lifter (Bristol) + Tiny Forehead (Lincoln).
Date:

03/06/2023

Time:

2023/06/03 20:00

Location:

89 De Grey Street Hull HU5 2RU

Venue:

Bunkerpop + Lifter(Bristol) + Tiny Forehead (Lincoln). – The New Adelphi Club
Bunkerpop
+ Lifter ( Bristol) + Tiny Forehead ( Lincoln)
Saturday 3rd June 2023
The New Adelphi Club
£5 Advance (no booking fees)
Bunkerpop are a Hull-based five piece, formed in 2016. They fuse a range of percussive, bass driven grooves, with washes of guitar, synthesisers and samples, influenced by names such as Talking Heads, The Modern Lovers, Brian Eno, Can, Funk and Afrobeat. The results are mesmeric, thumping tunes, which their audiences often find fascinatingly difficult to genre catagorise, but ultimately fall in love with.
Bunkerpop have a loyal, ever growing fanbase, and held in high regard for their immersive live performances, which deliver a true party atmosphere, both through the content of their set and their crowd-engaging frontman. Be sure to expect call and response chants, dancing and doses of joy and euphoria at any Bunkerpop show.
On the back of their eponymous debut album (2019), and single 'Times Up, Lights Out' (2021), the band are currently recording material for a series of releases on Fast & Bulbous Records, due for release in 2023.