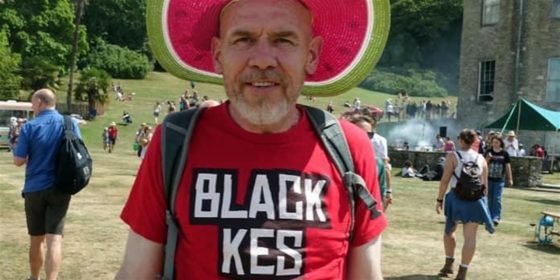 Mik Artistik's Ego Trip + Black Kes' Christmas Party!
Date:

19/12/2021

Time:

2021/12/19 19:00

Location:

Hull

Venue:

Mik Artistik's Ego Trip + Black Kes' Christmas Party! – The New Adelphi Club
Mik calls Black Kes his "new favourite band, Black Kes call Mik "the daddy" ~ a mutual appreciation society of the most chaotic order…
The surreal and beautiful beast that is Mik Artistik's Ego Trip are on their 2020 tour …and it promises to be an 'exotic' adventure.
Mik Artistik spouts lyrics, throws straws, and generally amuses himself, over the top of an exquisite layer of rock, soul, and punk created by partner in crime Jonny Flockton on guitar, a drum machine ,and one of a crack squad of bass players.
The cult band, have delighted and unnerved Glastonbury audiences for over ten years gaining more devoted followers each time they play, and are proving to be one of the most interesting, unpredictable and exciting acts on the circuit.
In the absence of Glastonbury last year the band had triumphant shows at Bearded Theory, Beautiful Days, and Latitude Festivals, winning over more and more new fans along the way, not to mention Damian Lewis of Homeland fame making a beeline for Mik at Port Eliot and proceeding to dance with him! ~ It's was a crazy summer to be sure!
Already this year no-less than Iggy Pop has climbed onboard, playing not one, but two, of the bands tunes on his Iggy Confidential Show in January. In December Iggy phoned into American Radio Station an endorsed Mik's song 'Sweet Leaf of the North' as his "favourite song of the last decade"! ~ some accolade!
Somerset Live, an on-line newspaper, listed Mik as one of ten 'Hidden Gems You Must Find at Glastonbury' ~ the only band/musician within the list!
Shaun Keavaney, BBC 6Music Breakfast show presenter described the band 'as mad as a wasp trapped under a pint glass.'
Graham Fellows, aka John Shuttleworth, has recorded one of Mik's songs on his new album "Weird Town".
Martin Parr the world famous photographer describes them as "My favourite band on the planet".
Rick Worthy who hosts The Port Eliot Festival every year in Cornwall said "Port Eliot wouldn't be the same without Mik…"
And Keith Allen likes the band so much he has one of the bands teapots!
This band brings joy ~ See them, hear them, touch them… and get healed.
Tickets · £14
via Eventbrite