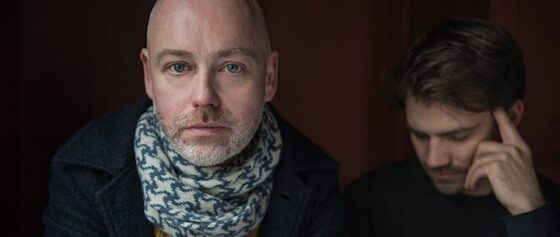 Aiden O' Rourke & Kit Downes '365' Project
Date:

14/05/2019

Time:

20:00

Location:

The New Adelphi Club

Venue:

Aiden O' Rourke & Kit Downes '365' Project
Aiden O' Rourke & Kit Downes '365' Project
An opportunity to hear two of the finest folk musicians around collaborating together in their new album 365 : Volume 2 – not to be missed!
Aidan O'Rourke, the multiple BBC Folk Award winner and founding member of Lau, Kan and Blazin' Fiddles spent a year writing daily musical responses to James Robertson's short story collection 365: Stories.
By the end of the year he had written 365 new tunes, from which he selected 22 to record with Kit Downes on harmonium and piano.
"It's as if Debussy were orchestrating Scottish folk – truly beautiful" | Songlines
Doors 8.00pm
Advance Tickets £9 from the foot of this page.
Aidan O'Rourke is a fiddler, composer, producer and one of the most influential folk musicians of his generation. With his trio Lau (singer/guitarist Kris Drever, accordionist Martin Green) and various solo and collaborative projects, he has pioneered a new sound in Scottish folk and re-contextualised tradition forms with experimental, improvised, jazz, classical and electronic music.
Kit Downes is a BBC Jazz Award winning, Mercury Music Award nominated, solo recording artist for ECM Records. He has toured the world with artists such as Squarepusher, Thomas Strønen and Django Bates and written commissions for Cheltenham Music Festival, London Contemporary Orchestra, Stavanger Konserthus, Cologne Philharmonie, BBC Radio 3 and the Wellcome Trust.
The 365 project all began with the book of short stories by the same name by Scottish author James Robertson. James is one of Aidan's favourite authors and this is a musical response to his short stories that he wrote every day for a year in exactly 365 words. Aidan wrote a musical piece for each story alongside Kit and has released Volume 1 on CD with Volume 2 due to be released in 2019.
We are requesting volunteers as spoken word contributors to both headline & support acts.
Before the 365 Project we have our own spoken word performance, currently going under the working title 'This Is Me – The Confessional.' Though established performers are very welcome to contribute, we are also hoping to pull in people who have never been on a stage before. Pushing yourself through that barrier can be quite cathartic, both for performer and audience. We know that because we tried it once before at last years Jessica Moss show & to say that went down well is an understatement.
So again it is music and spoken word. The music is underpinned by 2 local heroes in Phil Wilson (Electronics) and Sally Currie, (Viola) whom we know will do a great job having got the remit. The inspiration behind all of this is a 90's track by Liverpool band Big Hard Excellent Fish, called 'The Imperfect List,'.